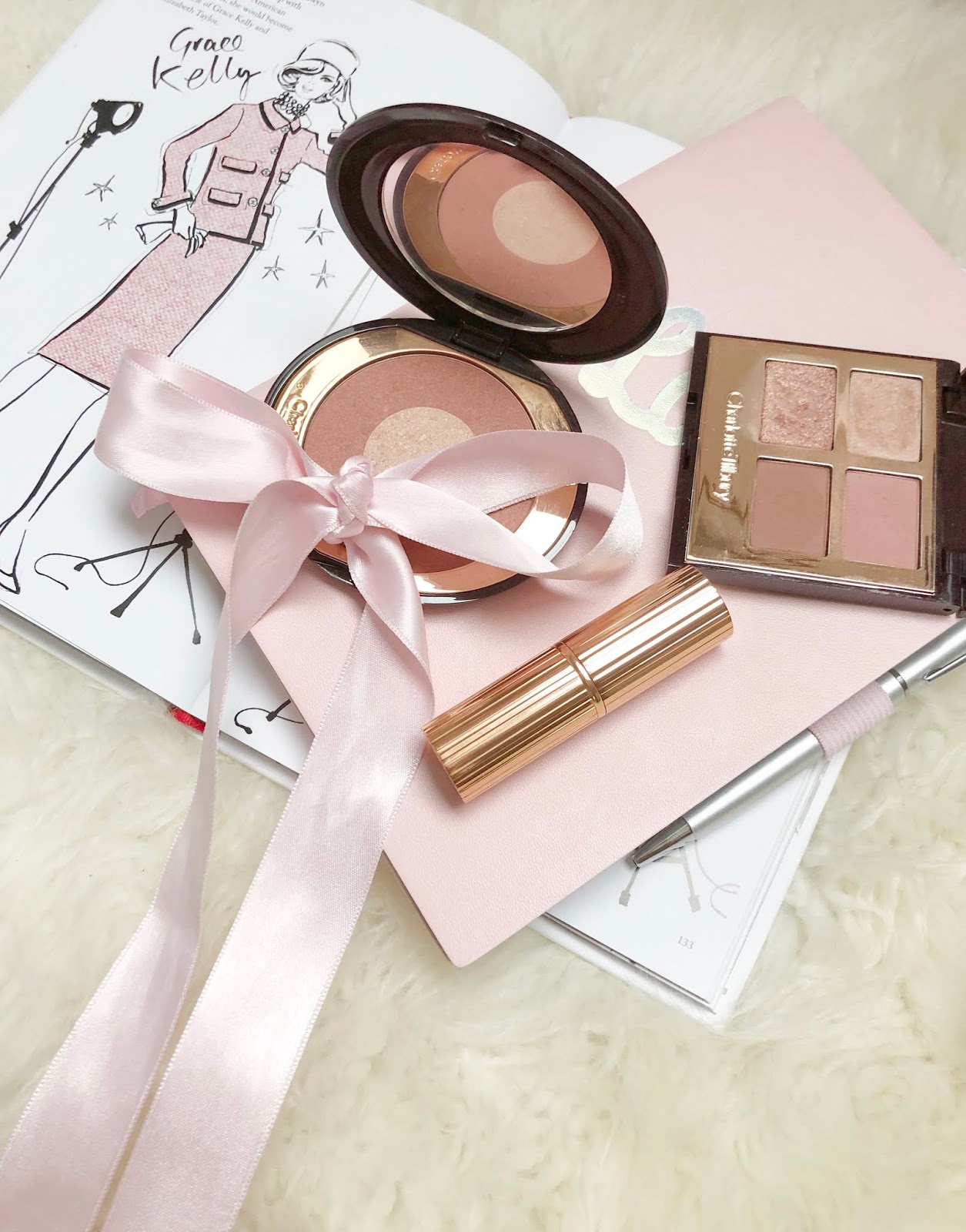 Hello lovelies and welcome back to my blog. As 2019 has ended I thought I would share my favorite beauty products of 2019. I have discovered so many new beauty products last year that I really love. Because I have used them a lot they look used on the photos as well. I just wanted to mention that because they don't look as pretty as when I purchased them. There are a lot of Charlotte Tilbury products included in this list because I enjoy her products so much.



The lipstick I loved the most last year was the Charlotte Tilbury lipstick in the shade dance floor princess. It is the perfect pink nude and I think it suits my complexion very well. I have to admit I am not a huge fan of the packaging but I don't hate it either. It is about what is inside after all. Charlotte Tilbury lipsticks are my favorite formula, they are just so creamy, buttery and hydrating!
Another Charlotte Tilbury product that made it to the list is the pillow talk eyeshadow palette. When I purchased this palette I used it almost every day and didn't really feel the need to use other palettes. I love that it includes two mattes and two shimmers. I love every shade in this palette. They blend very easily and the shimmers have no fall out. I read there is a new pillow talk palette coming out this spring, it will be bigger than the last ones. I already know that I would love to add that one to my collection.
For a party palette I love the Charlotte Tilbury Pillow talk of pops palette. It includes only shimmers which is a bit different then what I was used to. I still really enjoy it and used it a lot in Bali.
I also discovered a new mascara this year, the Too faced Better than sex mascara. It came in one of their holiday sets so I only have the travel size which surprisingly last me very long. I'm definitely purchasing a full size very soon because it is the best mascara I have ever tried. It makes your lashes so long and big and it isn't clumpy at all.
I can't stop talking about how much I love the Charlotte Tilbury filmstar bronze and glow. I purchased it lats year at Christmas time while I was in London and I still have so much left. I used it almost every day since and it can't ever be missed in my beauty routine now. It is just the best face palette ever.
The last Charlotte Tilbury product, I promise. I had to include the Pillow talk blusher in my favorites as it is the most perfect blush color. I would describe it as very rosy and natural. It is so pretty in every season. I also love the highlight shade in the middle. It just gives that little bit of extra glow.
At the end of this year I purchased my dream perfume, Viktor and Rolf Flowerbomb. I love the smell of this perfume because it smells so sweet. It reminds me a bit of the smell of candy but in a good way. I also adore the packaging, it is very detailed and princessy.
These where some of my favorite beauty products of 2019 and I am so exited to try even more beauty products in 2020. I would love to know what your favorite beauty products of 2019 where?