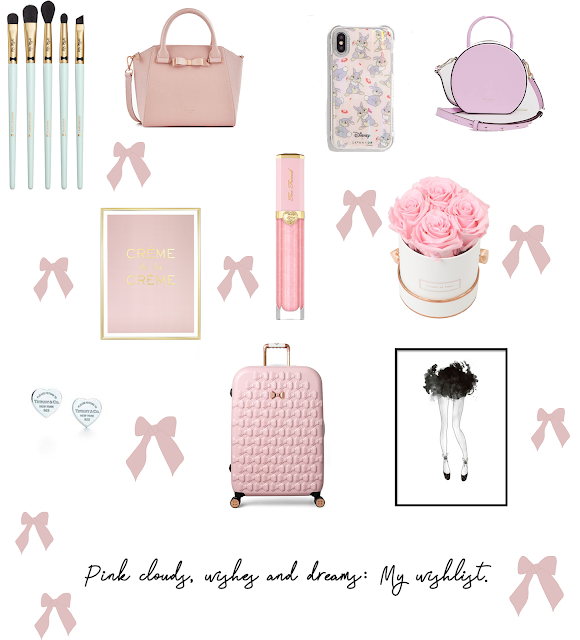 These baby blue Too faced brushes are the dreamiest. They actually inspired me to make this blogpost. Love the bows, such a cute detail. I hope they have them at Sephora in Milan next week. Love the name of them as well: Mr right. How adorable is that?


Isn't the thumper pone case just the cutest phone case you've ever seen. I want this case so badly. I love love love the milky pink background. They don't have it in my country unfortunately so I might oder it online.


How fancy is this lilac Kate Spade bag in Sweet pea. I adore it. I really like the shape ass well. Round bags are such a thing right now aren't they? It reminds me a lot of Elle Woods, although I don't think Bruiser would fit in it. lol.

Too faced always has the prettiest girly packagings. It makes me want to buy all of their products no matter if they are good or bad. This lipgloss looks sooo pretty. The color is just the perfect pink. I just love lipglosses.


I love my Tiffany jewelry. These Tiffany earrings will go perfectly witch my necklace and bracelet.


How sweet are these Desenio prints. I am currently changing my room a bit and I would love to add some Desenio prints to my room. I am not sure which ones I am going to choose, but these two are looking beautiful.


The bow Ted Baker suit case is on my wishlist for edges. I love the design and again it reminds me of Elle Woods. I would love the have the medium size. The inside is sooo beautiful as well.


Last but not least this pretty pink Ted Baker bag. I am not going to lie I have a Ted Baker bag that is a little little bit similar to that one. The only thing that is different is the shape. So I still would love to have this one.