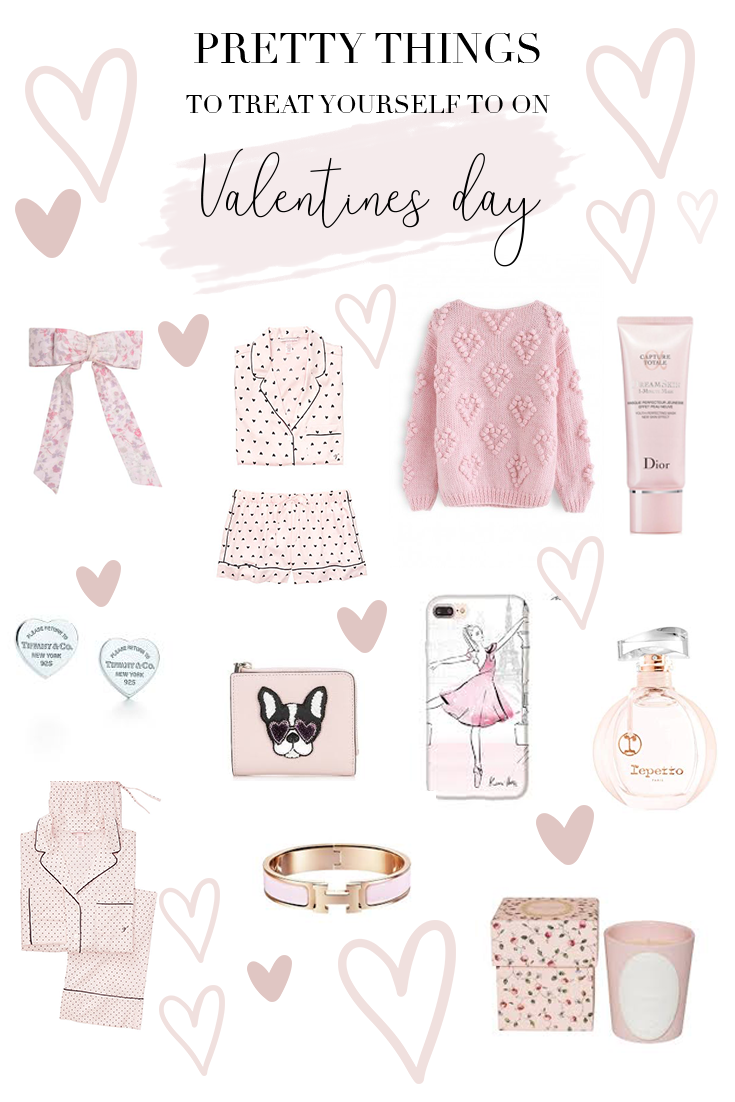 In less then a month is it Valentines day already and to celebrate that I put together a pretty pink gift guide with things to treat yourself to on Valentines day! I know it's a bit early but I loved created this post so much that I wanted to share it with you already.

When I started creating this gift guide, I knew I had to include some beautiful Victorias Secret pajamas. Is it really V-day without pink hearted pajamas. I don't think so. I have quit a few Vs pajamas myself and I would highly reccomend them. They are definitely worth the splurge. I love to tie my hair up with a pretty bow and I am head over heals about the Loveshackfancy hair bows. They have the prettiest designs and they will be perfect for spring! On my own wishlist is this gorgeous Hermes bracelet, so I had to include it in my gift guide and it would make the perfect V-day gift to yourself!


How cute is that heart jumper from Chic wish? It is perfect for Valentines day and it looks so cozy. You can't go wrong with some Tiffany and co jewelry! These heart earrings are the perfect pair of earrings to treat yourself. This gift guide wouldn't be complete without something from one of my favorite brands Kate Spade. I think this is the funniest wallet ever. I love the pretty pink soft shade. Kerrie Hess does the prettiest phone case and this has to be one of my favorites. It is perfect for all the ballerina lovers in the world.


Repetto is the prettiest ballet brand ever. I love their ballet flats.( Which are very highly on my own wishlist). However I saw that they did perfumes as well and they come in the cutest bottle. If you love a luxurious mask then is this Dior mask might the one for you! The packaging is just to die for and it sounds heavenly. I really want to try this one myself as well. I love Laduree and especially their candles are very cute. This Marie Antionette one is my favorite! I smelled it in store and it smells so good!

Love,


Anne Isabelle