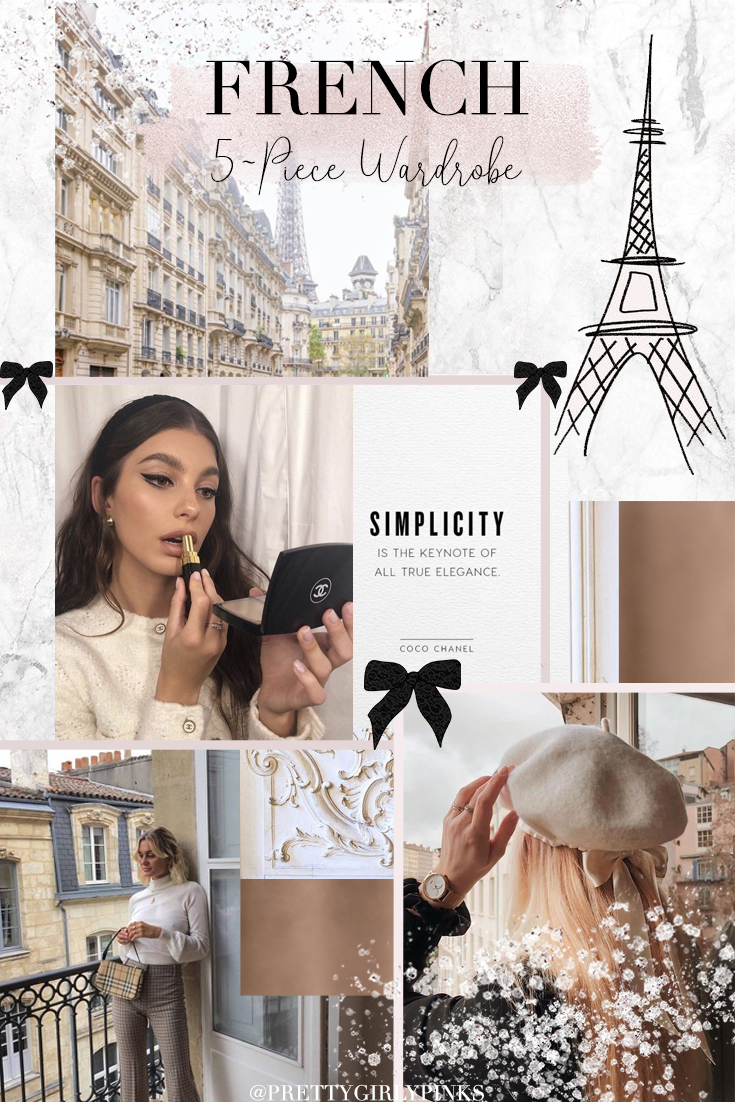 This is the first part of my new serie all about French style! I'm so exited to share everything I've learned with you so you can start using these tips for your wardrobe as well! In my last blogpost which you can read here, I shared 11 must-have pieces for your spring wardrobe. In todays blogpost I am going to share how you can make the pieces from my last blogpost stand out a bit more by using the French 5-piece wardrobe!

When I heard of The 5-Piece Wardrobe I instantly got super exited and wanted to learn more about it. I did some research and I think it is a great concept that we should all try! This blogpost is basically a short guide to the French 5-piece wardrobe. I wanted to make this post as short as possible with all the information you need, so you can start right away!


What is the French 5-piece wardrobe and how does it work?
It does not mean limiting your wardrobe to only 5 pieces, don't worry! It means building a wardrobe with pieces that you truly love! Before you start with the 5-piece wardrobe you need to make sure that you have the basics in your wardrobe. I would recommend searching for wardrobe essentials on Pinterest and Youtube. You can also read mine here.I would recommend having a few of each basic, for example maybe two/three white blouses but slightly different in the details, if you know what I mean.


However if you would only have basics in your wardrobe it would be pretty boring so the French girls came with the perfect solution for that, The French 5-piece wardrobe. Every fashion season, so officially twice a year you are allowed to add 5 statement pieces to your wardrobe. However if you really love fashion and you think this would be too hard for you you can also do every season. I think this is such a great concept because that way you will think more about what you buy instead of just buying everything you see.


The 'rules' for the French 5-piece wardrobe:
These are the original rules for the French 5-piece wardrobe but you can change them a bit if you want to of course
– Only 5 pieces each season
– Accessories don't count unless they cost you more then 200 euro's/dollars/pounds

This is all the information you need to get started with the French 5-piece wardrobe. I would love to hear your thoughts on this concept!