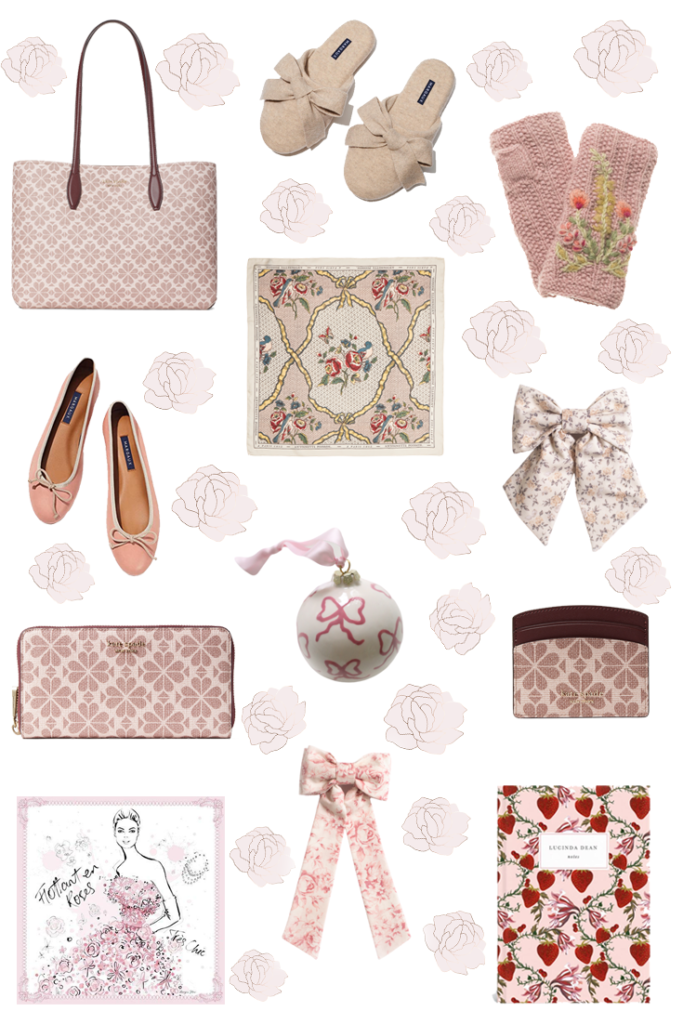 This gift guide is designed for the grand millennials at heart! All of these gifts make such special and thoughtful gifts!
Kate Spade came out with the prettiest collection of floral pieces! I am head over heels in love with this stunning Kate Spade tote, which I will definitely add to my own Christmas wishlist this year. The collection also includes a matching wallet and card-holder and they all come in brown as well!
Recently I discovered my new favorite boutique, French Knot. They have the most gorgeous pieces, including these darling gloves! Anything from their website would make a special gift and you would also be supporting a small business, which is always a good thing!
Bows and blue is a boutique by on of my favorite bloggers, Emily. The collection is just a dream. This little bow will look so gorgeous on your Christmas tree as well as in your hair! Also this Christmas ornament is so dainty and sweet! This big hair bow will look so cute with any Christmas outfit!
Megan Hess is my favorite illustrator and she just came out with a collection of new silk scarfs! This pink one is my favorite! It is so beautiful.
You can't go wrong with giving someone a notebook. I feel like everyone kind of collects them and they will be well used! Papier does the cutest notebooks. This is one of my favorites! The strawberry bow print is an absolute dream.
I fell in love with this vintage looking scarf after reading Julia's gift guide. It is so elegant and chic. I think anyone would feel so special after receiving a gift like this!
I absolutely adore these ballet flats by Margaux! They are so elegant and come in many different colors. They recently released a collection of slippers. These are my favorite! They look so cozy and chic.