Oh la la, it looks like the Charlotte Tilbury pillow talk love story continuous…… Victoria's Secret angel eyes and pink kisses. I honestly could not wish for a prettier collection right in time for the holiday season. Well it is not part from Charlotte's holiday collection but it is perfect for those fancy Christmas party's and sweet family diners. Don't you think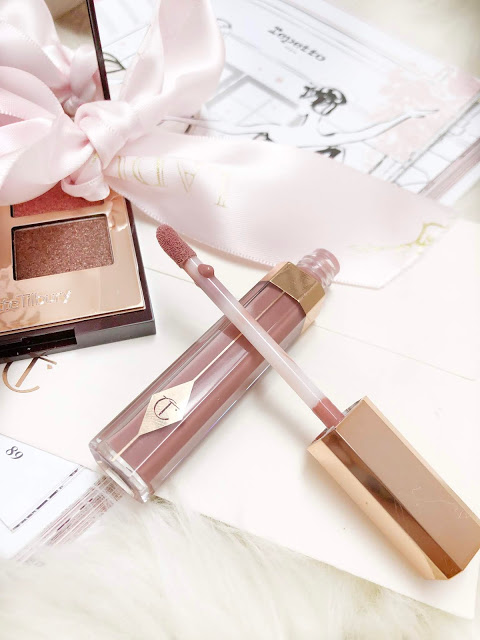 So so so many heart eyes for the pillow talk of pops palette. It is the palette of my dreams. I just adore everything about it. You really can't go wrong with a Charlotte Tilbury eye palette right? It comes in the same vintage looking packaging as all her eye palettes. Inside the quad are four glitter shades. It contains a pink toned champagne, a pop of pink, a rosy pink and a chocolate brown. As expected the quality is perfect. You could only where this on everyday basis if you don't mind going a little bit extra on your make up. If you don't feel comfortable with that, then it is a beautiful palette to safe for special occasions like party's, birthdays, weddings, events and probably many more things you can use it for. If you have the other pillow talk palette which is a very natural everyday palette then you could use them both. I bet that will look very pretty too. As I said before the quality is just perfection. The formula is very buttery and cream. The shadows blend like an actual dream. If you want those Victoria's Secret angel eyes than is this maybe the way to go.
The perfect pink pout. Absolutely in love with the lip lustre in the shade pillow talk. It is the perfect natural lip color and it suits everyone. It is a small lipgloss. I was actually quit surprised when I opened it. It is easy to take in your handbag but it won't last you as long as for example the Dior lipglosses. Don't worry there is still enough product in your lipgloss because you only need the thinest bit and you look gorgeous.When I wore it the other day, I didn't need to reapply it a lot at all. It will look gorgeous over a lipstick as well. Over all I am just obsessed with this dreamy lipgloss.
It is totally worth it. I love them a lot and know I will get a lot of use out of both products. So if you want Victoria's Secret angel eyes and lips definitely take a peek on Charlotte's website and maybe try these pretty products out.