Something I love to do is dreaming about the future and imagine what my life would be like when I am older. I thought it would be fun to make a list with the things I want to achieve in my life.
Graduating from high school is one of the most realistic things for me at the moment. If everything goes well, I am graduating next year from high school. I can't wait to graduate from high school and learn about things that I am actually interested in.
After I graduate from high school I would love to go to fashion college and study something that is fashion related. Fashion is one of my biggest passions and I can't wait to learn more about it.
Something else that I am very passioned about is my blog. I love writing and taking photos, which is the reason why I started my blog. I would love to grow with my blog and get better at writing and photography.
As I love writing, I would love to intern at a fashion magazine like Vogue. I think that would be very interesting and something that I would absolutely love.
I would love to get a job in the fashion world. I am not sure yet what that would be because I love both designing and writing. Luckily I have a lot of time to figure that out. I would love for my job to be my hobby too.
I live in the Netherlands and I would love to move to another country. I don't dislike the Netherlands at all but I also don't love it. I adore London and I can actually see myself living there. I have lived there when I was little for four years and ever since we've moved back to the Netherlands we keep coming back. Another place that I think is beautiful is Charleston, but I have not been there yet so I don't know what it would be like in real life. Charleston looks gorgeous on the pictures I have seen and from what I have heard it is beautiful.
I think the thing I want to achieve the most in my life is having my own fashion label. I would love to design my own clothes and actually be able to wear them and that others are able to wear them as well.
Purchase my dream home and decorate it all pretty. I know this is something that is very far away, as I am only sixteen years old but I love to dream about what my home would look like. I have a huge love for interior design as well and could scroll through Pinterest interior photos forever.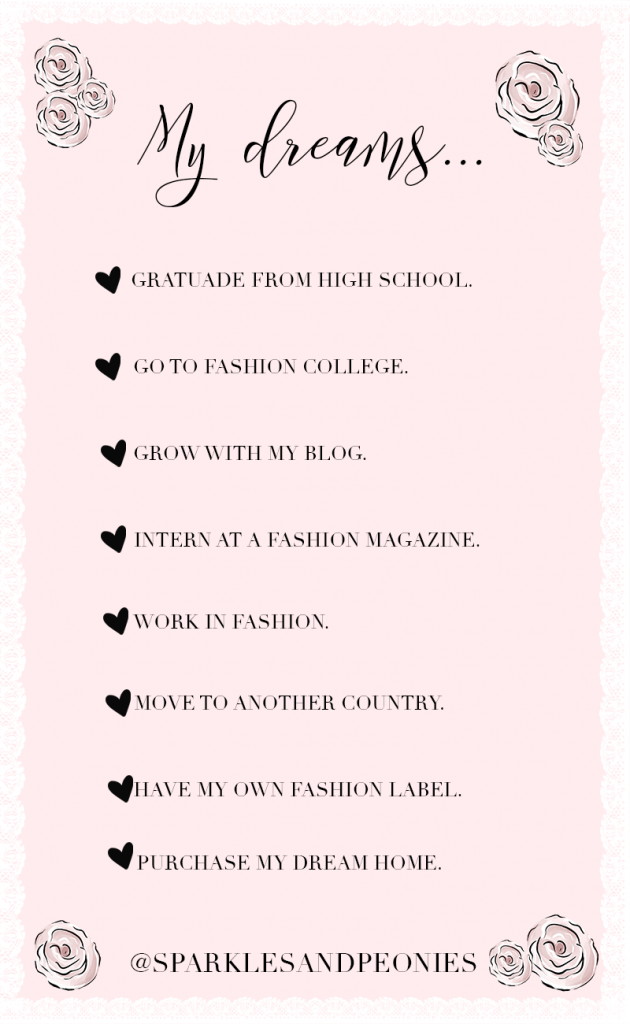 Love,
Anne Isabelle.