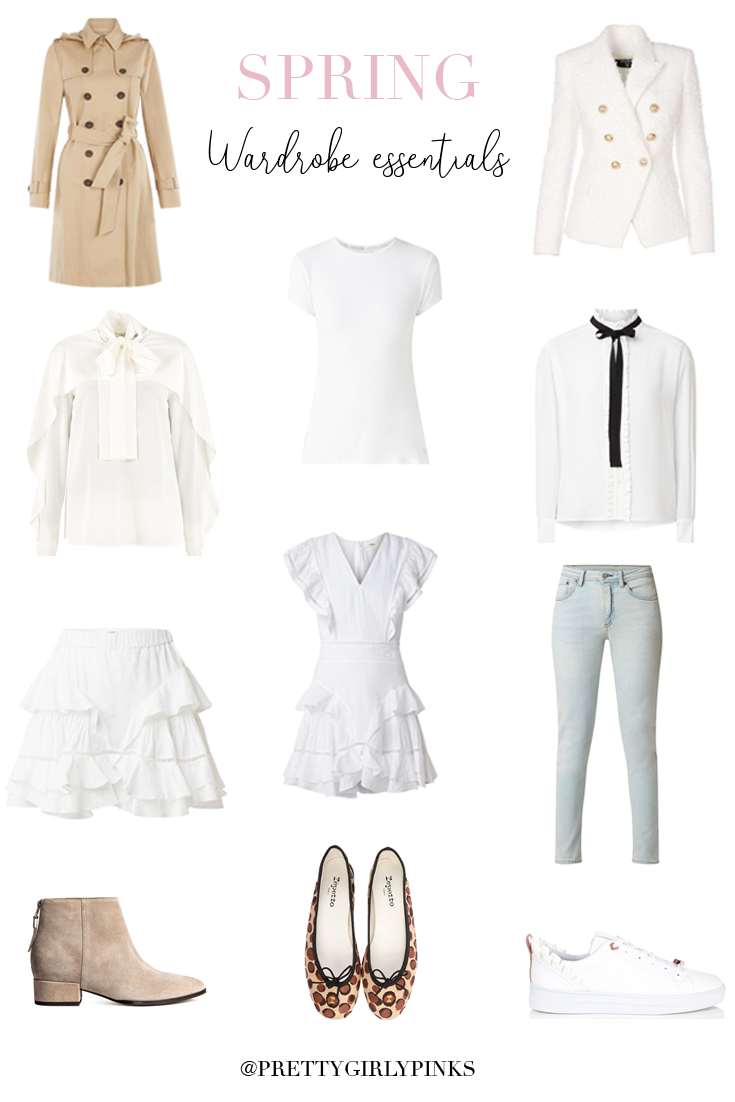 Spring is my favorite fashion season and I'm super exited to finally create spring content! For todays blogpost I made a little list with the must-have items for your spring wardrobe. These are the items I think make a perfect base for your wardrobe and if you have the essentials you can start adding the trends to your wardrobe. When adding these items to your wardrobe you will notice that everything goes together, so you have so many different outfit options with only a few pieces. I decided not to include accessories as I think that is personal preference. In my next blogpost I am going to share my tips on how to make these pieces stand out a bit more by using the French 5-piece wardrobe, so stay tuned for that!


A TRENCHCOAT: A trenchcoat in a neutral color is a must! A trenchcoat is timeless classic and stylish. It makes every outfit look better. You just can't go wrong with a trench coat. If you purchase one in a neutral color, you will get the most where out of it.

A JACKET: Everyone needs a good jacket in their wardrobe where you can always count on. There isn't really a specific style that you need because that is more personal preference. However I would go with one that is classic and goes with everything in your wardrobe.


A WHITE BLOUSE: Who doesn't love a white blouse?! Again this can not be missed in your spring wardrobe. Why not? Because you can wear it with basically everything, skirts, jeans, pants, shorts etc. You can easily dress it up and dress it down. There are so many different styles of the white blouse. You have ones with buttons, simple plain blouses, broderie blouses etc. There must be one for you.


THE SILK BLOUSE: This item is inspired by the French wardrobe. I'm very inspired by the French wardrobe lately. I'm planning on doing some French style inspired blogposts so stay tuned for that! A silk blouse gives such an elegant and chic look to an outfit. It will go with everything and they look so luxurious.


A WHITE T-SHIRT: This is a pretty boring item but it also in handy so many times. You probably already own one in your own wardrobe as it is a classic. You can definitely make this item stand out a bit more by styling it with some trendy items or a jacket.

A WHITE DRESS: I love a white dress. It is such a classic piece that can not be missed in my wardrobe. You can wear them to every occasion. I personally prefer mini dresses but you can also go with a midi or maxi dress if that is more your thing.


JEANS: I think everyone should have a great pair of jeans in their wardrobe. It is such a easy to wear piece and can be paired with everything! With jeans it is very important to find ones that fit you right and that are also very comfortable.

A SKIRT: I love a classic skirt that you can wear with so many different tops. Again I prefer a mini skirt but you can also go with a midi or maxi skirt.


BALLET FLATS: Baller flats are a spring wardrobe essential. They are comfortable yet chic and very Chanel! You can never have to many ballet flats in your spring wardrobe. On my wishlist are the Repetto ones. They are so pretty!


WHITE TRAINERS: White trainers are a must in every spring wardrobe. Again you can pair them with everything and they always will look good. I am a huge fan of the Ted Baker ones but for a more casual look I would recommend the Stan Smith ones.


ANKLE BOOTS: As it is spring I would recommend beige, brown or camel ones for example. They will look really cute with your white summer dress or even with some jeans and a silk blouse.